Buy links for Sore Spots:
Connect with the author:
Book summary:
The Last Good Knight: An Original Sinners novella told in five parts.

Part II: Sore Spots

With a potential stalker on the loose, Kingsley hires Lance as Nora's bodyguard, but stipulates no sex while he's on duty. Frustrated by the ex-SEAL's noble chivalry, Nora is driven to seek release with the one man she's trying to forget…
My rating: 4 stars


My review:
The answer to why I liked Part Two of The Last Good Knight can be summed up in one sentence: "Je t'adore, mon roi."

Yes, it's because of Kingsley!

It's no secret I'm team Kingsley, and that my favorite parts of the series are the ones that star the King. I just love that arrogant Frenchman. After this, I love him even more. That crisis in the kinky community caused panic among the members, and gave the King a really bad headache. Though I felt awful for all of them, I loved how that situation showed how Kingsley took care of his people, and to get another example of his feelings for Juliette. I wish we got to see more of that relationship. Keeping my fingers crossed for The King. Seeing how Kingsley hid his submissive side was an added bonus. Suffice it to say, I got an unexpected dose of King, which is always a good thing.

But enough about Kingsley, Lance was back in a new role of Nora's bodyguard, and he told his story to Nora, and like Nora it made me sad, and it made angry. Really angry. I was quite amazed how Lance was dealing with it. Like a real knight. It just made me like him more. Though I knew it was silly, I started to root for Nora and Lance to make it.

Being Nora's bodyguard would have been great for both him and Nora given their mutual attraction had there not been Kingsley's strict rules. I would have felt sorry for them, but I honestly can't, because that led Nora to a certain someone's house.

Oh, and that Nora's client was the sweetest, but now to Part Three and that certain someone.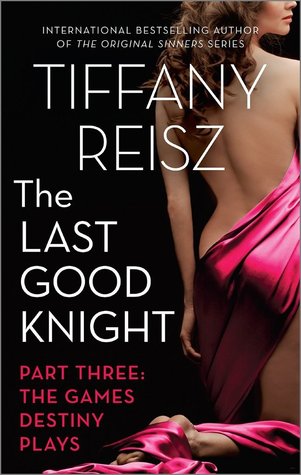 Buy links for The Games Destiny Plays:
Book summary:
The Last Good Knight: An Original Sinners novella told in five parts.

Part III: The Games Destiny Plays

Shocked to see Nora's bruises, Lance is furious that she put herself in danger and demands to know where she got them. As Nora confesses her true nature, she's equally shocked to learn that Lance has some secrets of his own, drawing them together despite Kingsley's orders…
My rating: 5 stars


My review:

For me this is 4 stars for Part III plus 1 special star for Søren.
"You're mine..." he whispered in her ear. "Whether you'll admit it or not, you're still mine."
The relationship between Nora and Søren during the period they were apart was something I was curious about for a very long time. To be honest, I still am, and I can't wait for the book in the prequels that will be set in that time. So far we got some glimpses into it, but what I got here was a real treat. Even though it broke my heart, I loved it so much. Better yet, I loved Søren. Being a girl who is team Kingsley all the way, you can understand why my "relationship" with Søren is not an easy one. However, I simply love how he is with Nora. This just reminded me why that is. My heart ached for him while I was reading this. It's got to be one of my favorite scenes between him and Nora.
The part with Lance was sweet...
"Do you want to wear my collar, Lance?" Nora asked, the question coming out before she even realized what she was saying.
"I'd wear it with pride, Mistress. Every night of my life."
Really sweet, as was how he treated Nora, and how he protected her, but what can I tell you - the reason I'm so in love with The Games Destiny Plays is Søren.
XOXO