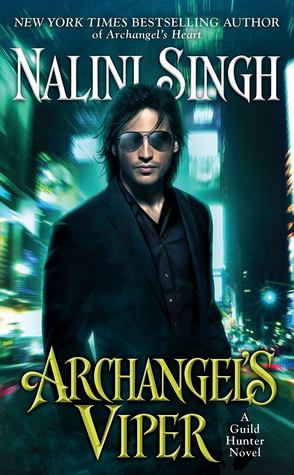 Urban Fantasy/ Paranormal Romance
Enter New York Times bestselling author Nalini Singh's breathtakingly passionate Guild Hunter world with the story of a woman who isn't a vampire or an angel…or human…
Once a broken girl known as Sorrow, Holly Chang now prowls the shadowy gray underground of the city for the angels. But it's not her winged allies who make her a wanted woman—it's the unknown power coursing through her veins. Brutalized by an insane archangel, she was left with the bloodlust of a vampire, the ability to mesmerize her prey, and a poisonous bite.
Now, someone has put a bounty on her head…
Venom is one of the Seven, Archangel Raphael's private guard, and he's as infuriating as he is seductive. A centuries-old vampire, his fangs dispense a poison deadlier than Holly's. But even if Venom can protect Holly from those hunting her, he might not be able to save himself—because the strange, violent power inside Holly is awakening…
REVIEW
"They let you drive now?" he said in a wondering tone of voice calibrated to get under her skin. "I leave for a couple of years and miss kitty's first steps. Did anyone take photos for the baby album I sent you?"
"It's full of pretty pictures." Holly bared her teeth at him in a caricature of a smile. "Honor is a little concerned about how I keep drawing you with your head cut off," she said in a deliberately thoughtful tone, "but an artist must follow her instincts."
If you ever read one of my reviews of this series you are more than aware that this is one of my favorite uf/pnr series out there and that since book #5 I've become an obssessed fan-girl a hardcore fan of the potential next couple Aodhan & Illium. I might even say that I started that theory or was one of the first fans that saw the potential, so of course that after every next book I'm religiously praying that Nalini Singh will finally succumb to my dirty mind and that the next installment will be theirs, but the 10th book is actually Venom's book, so tough luck poor Purple, maybe next time. :'( xD
But, despite slight disappointment I was still fairly excited for this book, because Venom, a centuries-old vampire with his seductive viper's eyes has definitely been one of the most intriguing GH characters. I got even more excited after I read that he'll find his partner in Holly, Uram's mysterious creation. Unforutunately, when the book was finally published I was still in the phase "I've lost my reading mojo", so it took me some time to give it a chance, but when I did - I could not stop.
Without spoiling anything, my impression of this is installment is that the story was good, uber action-packed and suspenseful, but I'll have to agree with other fans who also described it as a bit lacking, especially in the romance department. The parts I've enjoyed the most were their witty and snarky dialogues that never failed to entertain me. That's why 3.5/ 5 stars. In the meantime, my never-ending prayer for Aodhan's & Illium's book as in mm couple book continues...
xoxo,
Purple