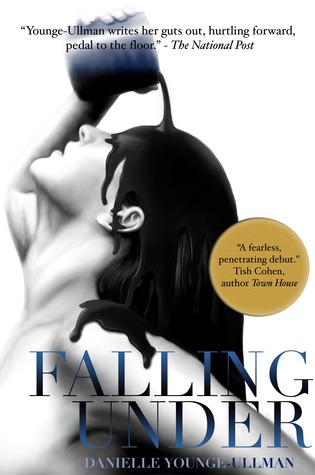 Buy the book:
Connect with the author:
*Synopsis*
After growing up as the only child of bitterly divorced parents, Mara Foster has finally gained independence and is embarking on a promising career as an artist. But despite her success, she is fragile. Burdened by a host of fears and anxieties, she finds it difficult even to leave the house on most days. When Mara meets Hugo, the walls she has built around herself begin to crumble, and as she struggles to find a breakthrough both in her art and in life, she must come to terms with her own dark secrets in order to get a second chance at happiness.
Written in spare, crisp prose and marked by wry humor, Falling Under is a gripping contemporary tale of human weakness, friendship, and hard-earned redemption.


*MY REVIEW*
"He would never understand how being happy makes you sad. How the happier you are the more you know the sky is about to explode into tiny, sparkling shards of glass that will pick up speed as they fall to the earth and slice right through you leaving your skin with little holes in it, leaving your heart bleeding."
It took me the longest time to get into this book. But once I did, it was difficult to stop. The beautiful sentences kept flowing and I was simply in awe – the writing style is quite lovely. The author writes about ordinary things in such an extraordinary manner.
This is a story of Mara Foster, young artist who is struggling with anxiety. The story is told alternating between past and present. The main event in the book is the death of her college boyfriend, Lucas. It's something that defined her, and we see events lining up to it, and we see after – Mara trying to deal with it. There's a lot of guilt in Mara; she's damaged, struggling with living her life despite her guilt which is crippling her. When she meets Hugo, she finally has a chance at happiness, but first – she must chase away her demons. We get to know Mara by witnessing her daily struggles, seeing how her past relationships defined her.
In her past, when she was 16, Mara had an affair with Caleb, a 34-year old painter who was her mentor of sorts. Then there was Lucas whose death left a huge impact on Mara and from whose loss she's still recovering. In the present she has an occasional lover Erik to whom she runs when her demons are too much. And finally, Hugo, this really sweet guy with a dog. And that's really all I have to say about Hugo. We meet him first and right away we're presented with the idea that he's the one. The one for whom Mara will get better. I, on the other hand, couldn't help but root for Erik. And Caleb.
The whole book was intense. If I had to choose one word to describe Falling Under it'd be that. And Erik was intense, his relationship with Mara was nothing but intense. I felt like with Erik, Mara had something real. I liked Hugo in the beginning, but later on I cooled off, I guess. I missed that intensity she had in her previous relationships.
"Sometimes my ears are full of screaming, and sometimes, like tonight, the voices are mine. Erik had them too – demons, voices. Nightmares seared on the soul – I knew it the first time I saw him. And sometime, when there are large, dark spaces inside that you cannot escape, sometimes someone can meet you there, keep you company. Sometimes they can break you out."
Mara is dramatic, her thoughts, her paintings are dramatic. Falling Under is the kind of book which relies on emotions a lot. Inner monologue is in the foreground. In fact, I think Mara's thoughts consist most of the novel. At times, it was even a bit too much being inside her head.
The ending felt abrupt. I was little surprised how things ended. Yes, all drama regarding her relationships was resolved (maybe), but I felt Mara's personal issues could've been given more attention. You can't present me with all that drama, make me emotionally invested with Mara, then expect me to believe she'd overcome *all that* that easily?
In conclusion, Falling Under is dark, sexy and hits you right in the feels. You can't stay indifferent towards Mara's pain. I loved, LOVED the writing, it's the best part of the novel. And I really wish more people knew about this amazing and unusual novel.
"We are fierce and intense and hot, but for the first time, our eyes are honest. Every touch strips us, makes us raw. And what we have always taken from each other by force, we now offer up and then go deeper and find more."
Beatrix