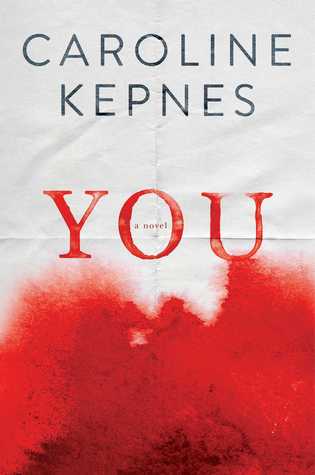 Buy The Book:
Author's Page:
Genre:
Love hurts...
When aspiring writer Guinevere Beck strides into the East Village bookstore where Joe works, he's instantly smitten. Beck is everything Joe has ever wanted: She's gorgeous, tough, razor-smart, and as sexy as his wildest dreams.
Beck doesn't know it yet, but she's perfect for him, and soon she can't resist her feelings for a guy who seems custom made for her. But there's more to Joe than Beck realizes, and much more to Beck than her oh-so-perfect façade. Their mutual obsession quickly spirals into a whirlwind of deadly consequences . . .
A chilling account of unrelenting passion, Caroline Kepnes's You is a perversely romantic thriller that's more dangerously clever than any you've read before.
RATING:
***MY REVIEW***

"Have you ever carried a secret around? I mean, a secret as in a lie. And one day you just fucking can't do it anymore. And you just have to let it out?"
It seems that lately I've been on
a psycho/sociopath quest
when it comes to choosing what to read next, lol. This book wasn't even on my radar until I saw the chilly, intriguing cover and then I read the blurb and couldn't get the story out of my mind so I had to get it.
"You didn't walk in here for books, Beck. You didn't have to say my name. You didn't have to smile or listen or take me in. But you did. Your signature is on the receipt. This wasn't a cash transaction and it wasn't a coded debit. This was real. I press my thumb into the wet ink on your receipt and the ink of Guinevere Beck stains my skin."
Dark, gripping & suspenseful mindfuck.
Meet Joseph/Joe, the bookstore clerk who is also the MC of this book. Right after the first couple of pages you'll come to notice that Joe is a very strange guy.
The book is written from
1st pov in a form of his diary
which he started writing on one of his 29 typewriters after he had met
Guinevere Beck
- his love interest, after whom he also named it- The Book Of Beck. Joe i
s obsessed with books and authors like Salinger, Stephen King etc., movies like Pitch Perfect and 500 days of Summer and Sinead O'Connor's hit "Nothing Compares 2U". He is also a collector of old things like typewriters and sees hidden meanings in everything around him and once you get on his radar it will be hard or even impossible to get off. That's all I'm going to say about the story, because this is a mindfuck and the less you know- the better.
"You sneeze, loudly, and I imagine how loud you are when you climax.
"God bless you!" I call out. You giggle and holler back, you horny girl, "You too, buddy." Buddy. You're flirting and if I was the kind of asshole who Instagrams, I would photograph the F_K placard and filter the shit out of that baby and caption it: F-K yes, I found her."
It was really hard to get into this story at the beginning and the main reason for that is the fact Joe is a true creep and that's why the writing seemed creepy and hard to get used to. Just read the quotes above and things should be creep...I mean clear :D. While I definitely think that the author did a great job in writing a story from the pov of a madman, at the same time his thinking processes where sometimes really hard to follow and that's why this story will probably be one of those hit/miss stories for readers, especially because there are quite a lot of pop-culture references, some of which I had no knowledge at all and I believe many readers won't, too.

Joe's complex and flawed character and suspenseful tone of his story will also be the main reasons which will keep you turning the pages. Don't be mistaken- this is not a love story. It's more of a psychological thriller after which you'll start to question what hides behind every question, look or smile of a stranger you come across.


And the ending?
In my opinion the ending is one of those parts of the story the author could have done way much better. I was mostly satisfied with the way things ended, but the ending was also to some degree
anticlimactic,
because the story ended in one of the most obvious and predictable ways, especially for fans of dark reads/mindfucks like me.
All in all, the story had its up- and down-moments. Recommended to readers of dark reads/ mindfucks- read it and decide for yourself!
She squirms her head to the side and her eyes are more beautiful than I realized and she recognizes me and she spits, "You."
The Message Of This Story: Human mind can be a very dark, dangerous and disturbing place.
XOXO