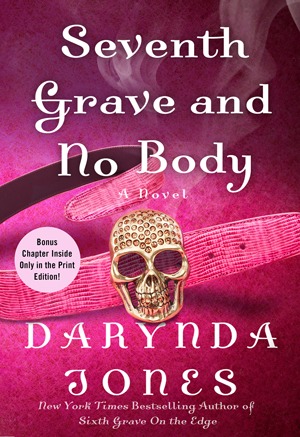 Buy The Book:
Author's page:
Genre:
Urban Fantasy/ Paranormal Romance
Twelve. Twelve of the deadliest beasts ever forged in the fires of hell have escaped onto our plane, and they want nothing more than to rip out the jugular of Charley Davidson and serve her lifeless, mangled body to Satan for dinner. So there's that. But Charley has more on her plate than a mob of testy hellhounds. For one thing, her father has disappeared, and the more she retraces his last steps, the more she learns he was conducting an investigation of his own, one that has Charley questioning everything she's ever known about him. Add to that an ex-BFF who is haunting her night and day, a rash of suicides that has authorities baffled, and a drop-dead sexy fiancé who has attracted the attentions of a local celebrity, and Charley is not having the best week of her life.
A tad north of hell, a hop, skip, and a jump past the realm of eternity, is a little place called Earth, and Charley Davidson, grim reaper extraordinaire, is determined to do everything in her power to protect it.
We're doomed.
RATING:
***MY REVIEW***
"Charley Davidson, Private Investigator, Because No One Is Better At Investigating Your Privates."
I had high hopes for the 7th installment in Charley Davidson series, especially after that glorious ending of the previous book and I was super-excited when I won the audio book on Hot Listens Blog.
My expectations about this book:
~ More, in-depth building of the paranormal/ fantasy world and revelations about the background of the Mcs and other secondary characters and less of Charley's side PI cases.
~ Charley being more mature and taking life/death situations more seriously.
~ Reyes and Charley to stop keeping secrets from each other. It's really high time for that to finally happen considering the next book is the final in the series. (Even if it had been high time the moment they had decided that they are going to be together.)
What I got:
~ Charley's side PI cases still taking a lot of space of the plot and btw. I still don't see the appeal in them, especially now when the focus of the story should be on other, more relevant things (like the apocalypse and the invading demons.) And don't let me start about the harem of Reyes' fans and "the bad guy" in the last case and its connection to Reyes. Insert gigantic *eye-roll*.
There was more world-building of the fantasy world, but was it unique and original? I'm not sure. I expected much, much more.
~ Charley being reckless and immature, maybe even more than ever considering "her condition". As I said in my previous reviews- her goofy behavior was endearing in the first four books, but now, to be honest, it is getting more and more frustrating, especially in more serious situations. I expected more character growth to be exact. Reyes Farrow definitely has hands full when it comes to her.
~ And yes, Charley and Reyes are still keeping secrets from each other whenever the opportunity rises. Less than before, but enough to frustrate.
"Damn it, I needed The Idiot's Guide to Grim Reaperism."
The story was in spite this yet again fun, emotional, action-packed and steamy. If anyone knows to write fun, hilarious situations- it's Darynda Jones, but a
fter reading the epic, new installations of
Fever Series
by Karen Marie Moning,
Kate Daniels Series
by Ilona Andrews,
Guild Hunter Series
by Nalini Singh I couldn't not notice how the world-building here wasn't on the same level. That's why
3 solid stars
.
"I knew it!" she said, glaring at me. "You're in league with the devil." "Duh. I'm affianced to him. Or, well, his son. I guess that makes me 'in league' with him, but you can't judge people by their in-laws. In-laws are all crazy. Everyone knows that."
Lorelei King was a great narrator. It took some time for me to get used to (and not giggle) a woman imitating voices of male characters, but I think she did a pretty good job. On the other hand my first experience with audio book was quite hilarious, like f.e. me falling asleep and waking up 6 chapters later etc.
The positive things about audio books, I would say, are:
~ You can do a lot of things while listening (f.e. clean, paint your nails, drive a bike/car etc.)
~ In my opinion, the listening heightens the experience- the voice of the narrator draws you slowly in the plot of the book and you feel like you're part of the story yourself (btw. which was quite scary when there were demons involved.)
All in all, audio books have their appeal, but while I'm glad I tried it, at the same time I'm not sure they are the right choice for me. I missed my kindle tremendously. It took me about 5 days to finish the book which never happens when reading and that's why I think
I'll stick to books for now.
XOXO