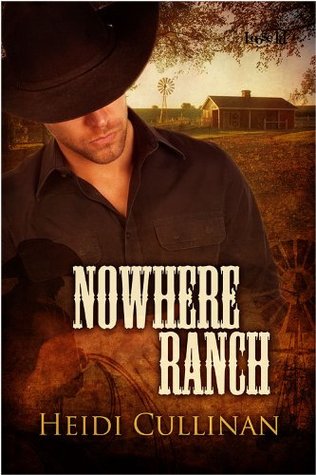 Roe Davis is a man who works hard, keeps to himself, and never mixes business with pleasure — until he takes a weekend away from his new job at Nowhere Ranch and runs into the owner at the only gay bar for two hundred miles. Getting involved with the boss is a bad idea, but Travis Loving is hard to say no to, especially when it turns out their kinks line up like a pair of custom-cut rails. As Loving points out, so long as this is sex on the side, no interfering with the job, they could make it work.
The truth is, there's good reason Roe never settles down and always spends his birthdays and holidays celebrating alone. Shut out in the cold by his family years ago, Roe survived by declaring he didn't need a home. As his affair with Loving grows into more than just sex, Roe finds out what happens when he stays put a little bit too long: the past always catches up with you. Eventually, even a loner gets lonely, and home will grow up through whatever cracks you leave open for it — even in a place called Nowhere.
Publisher's Note: This book contains explicit sexual content, graphic language, and situations that some readers may find objectionable: Male/male sexual practices, strong BDSM theme and elements, fetish play.
Add to Goodreads
Buy links:
Connect with the author:
My review:
Picking up a book by an author whose work I've never read before is always exciting. So many possibilities lie ahead. I try not to expect much, but always end up expecting anything and everything.
This was my first book by Heidi Cullinan, and if this is how she usually writes, I want to read more.

To be honest, the only reason I even chose this book was because I needed a kinky book with a title that starts with the letter N. I was very happy when I found it -- it fit the criteria, and as an added bonus it was M/M. The D/s and M/M combination is my weakness, so I was hopeful I would enjoy reading Nowhere Ranch. But with my reason for reading it, and the author being new to me, I really had no idea what I was getting myself into. Luckily for me, the story of how Monroe Davis found home is one I will remember fondly.


Nowhere Ranch surprised me three times. First was the kink. When almost all the books with kink take place in big cities' fancy BDSM clubs with all the possible instruments available, you start wondering what kind of play could be possible on a ranch, especially one called Nowhere Ranch. Well, as it turned out, you can do a lot. Travis and Roe really played hard, even in my opinion. But they enjoyed it, so I liked it.


The first part of the book was about Roe and Travis getting to know each other a little, though mostly physically, and it's the part with most kink. Just when I got used to that pace, the second surprise came. It was the part that made me very sad.


Roe left his hometown when his family wouldn't accept him being gay, and ever since he had been going from place to place, always moving, never making home anywhere, or making friends with anyone. And after a long time, he heard from his family. It was not for a good reason, and it was very unpleasant. I couldn't not feel bad for Roe. Your immediate family are the ones who should accept you the way you are no matter what. Even when the whole world turns their back on you, they are the ones who should stand by you. Sadly, that sounds like utopia. And Roe suffered because of their rejection.


Fortunately, after all that darkness came the light. And that was the third thing that surprised me: the warm-and-fuzzy-feelings part. I never would have guessed the book would lead me there, but I loved this part. This is when Roe and Travis built a home for themselves, became a family in an unexpected way. It was the happy part, which both Roe and Travis more than deserved it.

Oh, yes, the story of how Monroe Davis found home is a great one.
XOXO