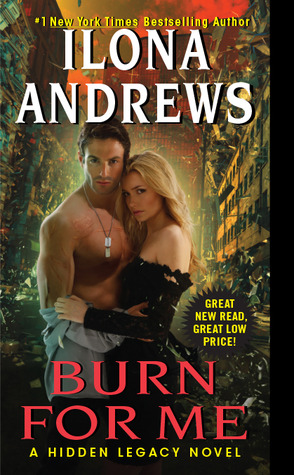 Fantasy/ Paranormal Romance
#1 New York Times bestselling author Ilona Andrews launches a brand new Hidden Legacy series, in which one woman must place her trust in a seductive, dangerous man who sets off an even more dangerous desire…
Nevada Baylor is faced with the most challenging case of her detective career—a suicide mission to bring in a suspect in a volatile case. Nevada isn't sure she has the chops. Her quarry is a Prime, the highest rank of magic user, who can set anyone and anything on fire.
Then she's kidnapped by Connor "Mad" Rogan—a darkly tempting billionaire with equally devastating powers. Torn between wanting to run or surrender to their overwhelming attraction, Nevada must join forces with Rogan to stay alive.
Rogan's after the same target, so he needs Nevada. But she's getting under his skin, making him care about someone other than himself for a change. And, as Rogan has learned, love can be as perilous as death, especially in the magic world.
RATING:
***MY REVIEW***
"I am fire. Burn for me."
Ilona Andrews did it again!!! They have managed yet again to create an interesting, imaginative and compelling fantasy world this time with mages as the leading characters.
Here's the short, spoiler-free intro:
A long time ago the scientist discovered a serum which awoke different types of magic talents in humans. These magic talents were passed on genetically what resulted in birth of different families with powerful hereditary magic and all of a sudden the world became a constant battlefield for wealth and power. The main character of this story is a 25 year old PI Nevada Baylor who's been running her family business- Baylor Investigative Agency since her father's death. Things were going okay for Nevada, the business was as usual- they weren't getting rich any time soon, but at least she was earning enough to keep providing for her family, but then, one day she gets a call from the company who owns their business which soon enough turns to be a life-changing event.
All her life she's been dealing with cases no bigger than discovering love affairs of unfaithful husbands and the next thing she knows she finds herself thrown in one highly dangerous and risky game with "the big boys" called the Primes, the most powerful and wealthiest magic users. On her life/death adventure she is forced to partner with one of the most powerful Primes who is also the main male character of this story- the uber-powerful, dangerous, almost ruthless, but sexy as hell head of the House Rogan- Connor Rogan a.k.a Mad Rogan. And that's all I'm gonna share with you about the plot.
Gripping, action-packed, thrilling, fun and adventurous read with a lot of sexual frustration tension in-between.
Add to that awesome MCs and both secondary characters. We get most of the story from Nevada's pov and she was a true kick-ass heroine- brave, fun and compassionate. She always speaks her mind and she is very protective of her family. One fierce woman who never backs off, not even when dealing with one of the Primes, worldwide (in)famous for his destructive power- Mad Rogan. Oh my... That guy was...intense and sometimes in a quite scary and disturbing way, but that only added to his appeal in my case, lol, because I prefer my MCs to be a little edgy.
Mad Rogan
could potentially end up being the next Jerricho Barrons (Fever Series by K. M. Moning) with that who's your daddy
attitude.
"So instead of talking to me, asking for my credentials, or doing any of those things a normal person would do, you decided to assault me and chain me in your basement?"
He shrugged, a slow, deliberate movement. "It seemed like the most expedient way to obtain the information. And let's be honest, you weren't exactly harmed. I even took you home."
"You dumped me on my doorstep. According to my mother, I looked half dead."
"Your mother exaggerates. A third dead at most."
The chemistry between them was off the charts resulting in a few pretty steamy make out sessions, but Nevada refuses to be just another x on his list of conquered challenges, so Mad Rogan will have to work for it and we'll just have to sit back and enjoy watching him ;).
From the secondary characters
I loved Nevada's family, especially her 72 year old grandma who was hilarious and whose choice when taking pictures I totally support.
"Nothing existed in the ascent. It was a place of magic and power,
but completely empty. He entered it to access the apex of his power,
but within it there was no joy or sadness. No cold, no warmth,
only serenity. It was a prison and a palace all in one.
And then he had felt her. She was warm and golden and
she tore through the sterility of ascent and reached for him.
She kissed him and as she shared all of her fears and wants,
All in all- 4 awesome, I-can't-wait-for-the-next-book stars, because while this was definitely a great and very promising start to the new fantasy series, their latest installment in the Kate Daniels series- Magic Breaks (Kate Daniels, #7) was magnificent. Highly recommended to every fantasy/ paranormal romance fan out there! You just can't go wrong when it comes to these two authors.
"And now you're a Prime without a cause."
"Yes. Most things are not a challenge." He leaned forward,
focusing on me. "When I find a challenge, I devote myself to it."