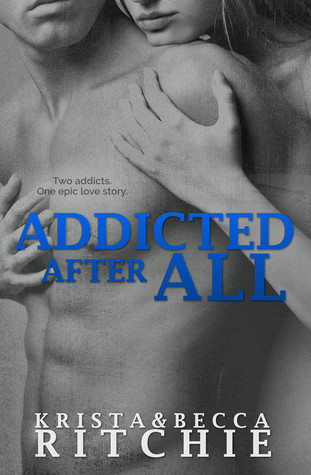 **SUMMARY**
Two addicts. One epic love story.
Prepare for the worst.
That's what Lily and Lo try to do when Jonathan Hale schedules an "important" meeting. The problem: after being swept into the public eye and battling their addictions, they're not sure what the worst is anymore.
In a sea of many changes—including Ryke & Daisy living with them—Lily realizes that the best part of her fluctuating hormones might just be the worst.
Her sex drive is out of control.
Loren knows that she's insatiable, but he's not giving up on her. She's too much a part of him. And as he carries more and more responsibility, some of the people that he loves doubt his resolve.
In the conclusion to their love story, Lily & Lo stand side-by-side to fight, one last time, for their happily ever after.
**AUTHORS' NOTE**
Due to the 2-year gap between Addicted for Now (Addicted #2) and Addicted After All (Addicted #3), you must read Thrive (Addicted #2.5) or the Calloway Sisters spin-off series before reading Addicted After All.
**MY REVIEW**
One EPIC love STORY.
I want to stress this part – epic story, and it is indeed so. I never even dreamed when I read the first book that I'll fall in love with these characters so much. That I'd become addicted, really. Krista and Becca Ritchie have given us six amazing characters – family, friends, lovers. Connor is too conceited. Rose is too high-strung. Daisy is too wild. Ryke is too aggressive. Lily is too awkward. Lo is too hateful. And a story about growing up, making bad choices and becoming stronger in the aftermath of it all.
Honestly, it's incredibly difficult for me to write this review, because I.just.loved.this.book.so.much. I cannot articulate my thoughts properly.. because well, we're talking about my favorite NA books here.
Despite the fact that Lily & Lo are my least favorite couple (teams Nerd Stars and Raisin come first), I truly enjoyed AAA. It's like with this book, I've finally grown to love Lily and Loren. Now that they've come full circle, became stronger I can fully understand them and their struggles. I finally see what a long way they've come.
I fell in love with Lo like a little girl opening her heart to magic. It always seemed surreal until the moment it became true.
Addicted After All was a rather emotional book to me, by this point we're become so connected with these characters and I even had tears in my eyes. The most emotional scene for me was Lily's confrontation with her mother. When she said: "Mom. I'm sick." Oh, Lil. I wanted to hug her!
It's no secret that Rose Calloway and Connor Cobalt are my favorite people in the Addicted universe, but after AAA, I'm becoming seriously Crazy for Raisy, perhaps it is so because they are so fresh, here, we see them for the first time as a proper couple. And, Ryke. I've got newfound love and respect for him. He truly is the hero of their gang. I love that Ryke and Lily's friendship is left intact and maybe even stronger than before. And after the long struggle, the brothers' relationship is finally at a happy place. As it should be.
I think Ryke just wishes I was at his level. If all of us didn't give a shit, then he'd never have to watch us crumble. I feel tears crest my eyes. I wish, so badly, that I could be more like him. Doesn't he understand how much we'd all replace parts of ourselves to have a little of what he possesses?
Something else that needs to be addressed, unrelated to my excessive fangirling, is the writing. These authors sure know how to write, how to pull you into the story, create the most amazing set of characters… The fact that after 7 books, I still want more proves it. I'm a fan for life of K&B Ritchie and I know for sure, I'll read anything they write! I love the fact that the authors are in their early twenties and they're writing about the characters in the early twenties, it just feels all the more real and authentic.
We've been obliterated and we've come together whole for the first time. Our lives are meteor showers on rewind. I don't think we even knew what we'd be once we pieced ourselves back. Maybe we do belong in space with all the stable constant stars. We're just the more destructive, more disastrous chaotic pieces, the comets that head towards earth.
In conclusion, I'm very happy with the way Lily & Lo's story has ended, but I'm even happier that we get TWO MORE BOOKS and the next one is about my favorite couple – Coballoway all the way is coming our way. Be still my heart!
PS: Long live Fizzle Force! ♥
xoxo,
Beatrix