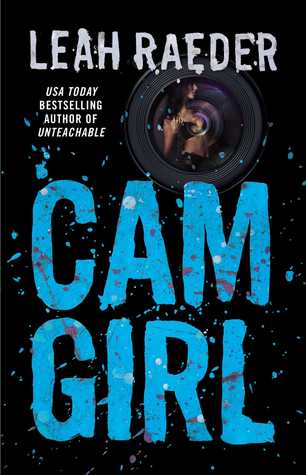 Genre:
New Adult/ Contemporary Romance/ Suspense
Buy The Book:
AMAZON / S & S / B & N / BAM! / IB
Connect With The Author:
Twitter / Facebook / Goodreads / Blog
Synopsis On GR:
"Darkly erotic…a must read" (Publishers Weekly, starred review)
From the USA TODAY bestselling author of Unteachable and Black Iris comes a new, sexy romantic suspense novel about two best friends who are torn apart by a life-shattering accident…and the secrets left behind.
Vada Bergen is broke, the black sheep of her family, and moving a thousand miles away from home for grad school, but she's got the two things she loves most: her art and her best friend—and sometimes more—Ellis Carraway. Ellis and Vada have a friendship so consuming it's hard to tell where one girl ends and the other begins. It's intense. It's a little codependent. And nothing can tear them apart.

Until an accident on an icy winter road changes everything.

Vada is left deeply scarred, both emotionally and physically. Her once-promising art career is cut short. And Ellis pulls away, unwilling to talk about that night. Everything Vada loved is gone.

She's got nothing left to lose.

So when she meets some smooth-talking entrepreneurs who offer to set her up as a cam girl, she can't say no. All Vada has to do is spend a couple hours each night stripping on webcam, and the "tips" come pouring in.

It's just a kinky escape from reality until a client gets serious. "Blue" is mysterious, alluring, and more interested in Vada's life than her body. Online, they chat intimately. Blue helps her heal. And he pays well, but he wants her all to himself. No more cam shows. It's an easy decision: she's starting to fall for him. But the steamier it gets, the more she craves the real man behind the keyboard. So Vada pops the question:

Can we meet IRL?

Blue agrees, on one condition. A condition that will bring back a ghost from her past.

Now Vada must confront what she's been running from. A past full of devastating secrets—those of others and those she's been keeping from herself…
"All art comes from pain."
Dark, raw, thought-provoking, erotic, poignant, inspiring... but above all beautifully written. It's such a complex, powerful and skilfully written story that makes me feeling inadequate to even write a review about it, that's why I'll keep it short. I thought it will be pretty impossible to dethrone Black Iris, but L. Raeder has yet again stolen a piece of my heart with Cam Girl and set the level much higher for my every next read. As always the synopsis does not do justice to her books and it's better to dive into it without any prior knowledge.
"My love is savage and rapacious. It isn't content to touch. It wants to be inside, crawl into the marrow, caress each vein until the cells are all mixed up and there is no you and me anymore, no secrets or shadows sliding between our skin. Only this endless devouring of each other."
I won't say anything about the plot, because if you're familiar with this author's work you are aware that she is the master of mindfucks and this book is another one of those, meaning the less you know the better the reading expirience, so stay away from potential spoilerish reviews. All I can say that it's the type of a book which will make you question and give another, inside perspective about themes such as self-discovery, sexuality and genders in general. Knowing some background about the author I feel as if she has given us a sneak-a-peak of her soul. The book deserves 5 stars soley taking into consideration the superb writing style. It finds itself already on my top-reads-of-2016 shelf. That says it all. Highly recommended to every fan of dark, suspensful, steamy and thought-provoking mindfucks which will keep you second-guessing till the very end.

Her next book is due on May 31st 2016 and the only info we know it will be about one of the characters from Black Iris and Cam Girl. From the title itself I have my suspicion who will it be and can not freaking wait!
"If two people could make each other smile and laugh and forget all the pain and darkness in the world for a moment, why should we feel ashamed of it?"

BEATRIX' REVIEW
What a strange world where we pay people to listen to our problems, and pay them to fuck themselves while we watch, and pay them to save us.

Once upon a time (okay, when I read Unteachable) I fell in love with Leah Raeder's words. And ever since, I await her next novel with delightful anticipation. It's like (s)he has this deep, profound relationship with words, and we, as readers, should feel lucky we get to read what comes out of her/his pen. (S)he is an artist, just like Vada, MC of this novel.
Cam Girl is another beautifully written novel, and one which raises a lot of important issues, main one being our preconceived notions about gender and sexuality. Masterfully portrayed, Cam Girl is a novel I will for sure recommend to many people!
You pretend everything's fine. Even when you feel heavier every day, when the air smothers like a pall. When you feel something pulling you under but can't escape, because it's pulling from the inside.
Now, one may wonder, if I loved it so much why not give 5 stars? Well, the reason for that is that I loved Unteachable and Black Iris just a bit more. Plus, there were some parts that I found to be too slow. During the middle part there was also too much focus on Vada and Ellis' relationship drama, which was also repetitive, same fight over and over.
On the other note, can I just say how happy I was that my favorite psycho made an appearance! (Zoeller, whom you may know from BI)
"I've always cared deeply about the Earth. I want it to be pretty for the day I assume control."
Overall, despite some of my hang-ups, I think Cam Girl is a great novel, one that deserves praise and recognition. Firstly, the writing style will always be my favorite thing about Raeder's novels, and secondly, the topics (s)he chooses.
Therefore, all I can say is – cannot wait for Bad Boy now!
* If you're interested in this author's work, check out: