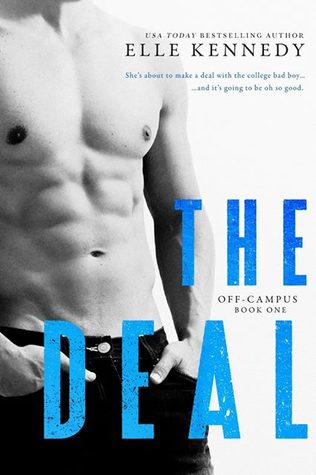 Summary:
She's about to make a deal with the college bad boy...

Hannah Wells has finally found someone who turns her on. But while she might be confident in every other area of her life, she's carting around a full set of baggage when it comes to sex and seduction. If she wants to get her crush's attention, she'll have to step out of her comfort zone and make him take notice... even if it means tutoring the annoying, childish, cocky captain of the hockey team in exchange for a pretend date.

...and it's going to be oh so good.

All Garrett Graham has ever wanted is to play professional hockey after graduation, but his plummeting GPA is threatening everything he's worked so hard for. If helping a sarcastic brunette make another guy jealous will help him secure his position on the team, he's all for it. But when one unexpected kiss leads to the wildest sex of both their lives, it doesn't take long for Garrett to realize that pretend isn't going to cut it. Now he just has to convince Hannah that the man she wants looks a lot like him.
Buy links:
Connect with the author:
My review:
My thoughts after reading The Deal in short are: I loved it! I loved it! I loved it!

But, I don't want to keep it that short, so here comes the longer version.

Some books remind me of certain weather conditions, and The Deal was like a warm, sunny spring day with just enough breeze to make it even more enjoyable. That may be a weird thing to say--it probably is--but that's how it was for me.

To be honest, when I first noticed this book in my News Feed, I didn't find it appealing: I've never read anything by Elle Kennedy, the title reminded me terribly of The Pact which I basically hated, and the words college and sports pushed me even further away. However, my mind was completely changed when all the five-star reviews started pouring in. My curiosity had to be satisfied. This time curiosity didn't kill the cat--it made her purr, purr, purr.

The Deal was one of those books after you finish it, you want to write a thank-you letter to the author for writing it. The plot wasn't overly complex: the heroine, Hannah, got an A on a test, and the hero, Garrett, failed it, and badgered Hannah to tutor him for the makeup test so he could keep his GPA up so he wouldn't be kicked off his hockey team. In return he would help her get the attention of the boy Hannah had a crush on. That was the deal. But its successful outcome ended up not being enough for them--they wanted each other, and they made sure they got it, no matter what.

It was so refreshing, the way the main characters behaved. No excess drama to be found anywhere. Every chapter, every page was interesting. Most of them were lots of fun, but there were others dealing with some awful, serious subjects. There was not a moment that I felt bored; both Hannah and Garrett were awesome MCs, fun, smart, and witty--I could read about their bickering for days on end. Most importantly they were all around good, mature fictional college people. There was only one instance when I got worried about where the story would go. Almost the exact same thing happened in one of the books I recently read, and it didn't go well there, but Garrett proved to be a bigger man. If I hadn't already been all googly-eyed over him, that would have done it. He often had his cocky-bastard moments, but instead of being irritating, they were adorable. Garrett even sometimes called Hannah "baby", and it didn't bother me. The book has some serious magic powers--there's no other explanation. And Hannah was the perfect heroine. I'd love to read more about young women like her.

In conclusion, I loved everything about The Deal: the story, the writing style, the main characters, all of it! I picked this to read to at least partially forget about the disaster of a TV-series Grey's Anatomy has turned into, and it worked! The book has magic, I stand by it.

Now I'm genuinely looking forward to reading Logan's book. There wasn't much of him in this one, but enough that I adored him, and would be more than willing to comfort him. Lucky for me, his book just came out, so I'll soon be once again enjoying the company of Off-Campus men. YAY!


Until next time, happy reading!
XOXO