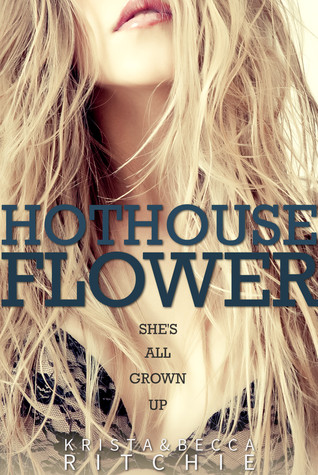 Buy the book:
Connect with the authors:
*Book summary*
Ryke Meadows, meet Daisy Calloway ... she's all grown up.
Twenty-five-year-old Ryke Meadows knows he's hard to love. With a billion-dollar inheritance, a track-star resume, and an alpha-male personality—he redefines the term likable asshole. But he's not living to make friends. Or enemies. He just wants to free climb three of the toughest mountains in Yosemite without drama or interruption.
And then he receives a distressed call from a girl in Paris—a girl that he has never been allowed to have.
Daisy Calloway is eighteen. Finally. With her newfound independence, she can say goodbye to her overbearing mother and continue her modeling career. Next stop, Paris. Fashion Week begins with a bang, and Daisy uncovers the ugly reality of the industry. She wants to prove to her family that she can live on her own, but when everything spirals out of control, she turns to Ryke to keep her secrets.
As Daisy struggles to make sense of this new world and her freedom, she pushes the limits and fearlessly rides the edge. Ryke knows there's deep hurt beneath every impulsive action. He must keep up with Daisy, and if he lets her go, her favorite motto—"live as if you'll die today"—may just come true.
New Adult Romance: recommended for readers 18+ for mature content
Hothouse Flower is a spin-off of the Addicted series. Kiss the Sky is required before reading, and we strongly recommend reading the Addicted series before this spin-off.
Addicted Series Recommended Reading Order:
Addicted to You (Addicted #1)
Ricochet (Addicted #1.5) <--- The main characters meet here.
Addicted for Now (Addicted #2)
Kiss the Sky (Spin-Off) (Calloway Sisters #1)
Hothouse Flower (Spin-Off) (Calloway Sisters #2)
Thrive (Addicted #2.5)
Addicted After All (Addicted #3)
My rating:
*My review*
I was waiting for the sun to chase me…
I can't believe I'm saying this, but I liked this more than
Kiss the Sky
, which was light and fun, and I mostly loved it because of Rose and Connor, but – what a pleasant surprise this had been.
I must confess – I didn't really like Daisy and Ryke in the previous books, but here, we get to know them better, see their side. I really liked the development of their relationship, it was something that has been building for 3 years (sexual tension was off the charts), and there is no insta-love here, no love triangles. These books are really something different in the NA genre, finally we get a story without the overbearing alpha males and passive females. Usually those stories are about sex (only), the pair trying to get together and once they do the story ends. But here we see a couple trying to overcome obstacles together, we get a story about family, friendship, loyalty. I can say with certainty I will read anything Ritchie sisters write.
Then, Lily and Lo – you're annoying me, I don't know how and when, but I've grown to care more about these secondary characters than the two with whom the story originally began. I do hope the authors will continue to write from the perspectives of all characters, not just Lily and Lo.
Furthermore, another reason why this gets a plus from me – the serious issues tackled in the book. The authors didn't write this just to write it (as many sequels these days are simply pointless). There is a reason why Daisy's story is being told right now. She was affected by Lily's addiction going public and here we see her dealing with the consequences.
I enjoyed this book very much, and I highly recommend
Addicted series
. I do believe Ritchie sisters are new promising voices of the New Adult genre.
To conclude with my two favorite quotes from the book, simply because they're something I personally believe in.
~You are your own anchor. When you fail, you hurt yourself more than anyone else. Do you want to keep burning or are you going to let yourself rise?
~Because when you find something you love, you can't quit. Every failure pushes you harder.
And, while reading this book, I had this song on replay, I think it so perfectly fits the story (the singer even looks like Daisy *grin*):
Laurel – Blue Blood
xoxo,
Beatrix