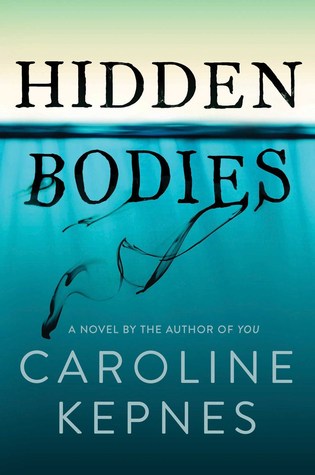 Kindle Edition, 448 pages
Expected publication:

February 23rd 2016 by Atria/Emily Bestler Books
Genre: Psychological Thriller/ Suspense
Charmingly murderous antihero Joe continues his twisted quest for the perfect love in this thrilling follow-up to the "deeply dark yet mesmerizing" You (Booklist). When Joe follows the woman he wants to marry to the West Coast, he never imagines that his obsession will lead him to such tragedy...

After the heartbreak of losing his girlfriend, Beck, Joe Goldberg thought he'd never love again. But when mysterious Amy Adam begins working for Joe at Mooney Books, he finds himself obsessed with his new employee. Amy is Beck's opposite—she hates Twitter, she doesn't even have an email address, she's completely unsearchable online—and she quickly captures Joe's heart. But just before Joe can ask Amy to marry him, she disappears, leaving a trail of clues in her wake.

Joe is then forced to do something so vile, so awful that he nearly loses his mind: he moves to Los Angeles to find Amy. He is tortured by a series of aspiring Angelenos—an insufferable stand-up comedian, philistine booksellers, a money-hungry nanny, and a slutty ghostwriter—before meeting his ticket to a more luxurious world: a surgically enhanced, social media–savvy heiress named Love Quinn. But Joe can't stop stalking Amy, despite the world opening up to him with Love on his arm. Will Joe finally escape his sordid past?
Or is Love just the latest casualty in Joe's unrelenting search for the perfect match?
RATING:
4. 5 stars /5 stars
*** Spoiler-free REVIEW ***
People are most of the time oblivious to the power of the written word. They tend to forget that words are used to create, but also to destroy. They can be means to deeply hurt someone's feelings or make them smile. They have the power to virtually take us to places we have never been
and
make us kings, queens, models, rock stars, vampires, fairies etc. at least for a day. Or in this case they can take us in the head of
a stalker, compulsive liar,
a true psycho

and a killer-
the MC of this book, Joe Goldberg and

make us even like him, cheer for him or sympathaize with him, while in real life we would have never done that
. That strong is the power of words. This story reminds us that some of the darkest and flawest minds hide behind pretty words and we aren't even aware of them until it's too late.
Dark, gripping, raw, suspenseful, entertaining and thoughtprovoking psychological thriller.
Anyone looking for a well-written, complex, but fascinating story from a pov of the villain, search no more and give a shot to this series. I liked the first book, BUT I loved this one. After the gory ending of You (You, #1) Joe's unfortunate and deadly search for love continues. Will he finally meet his true match this time or will his darkest secrets come to the surface and be his downfall? Buy the book and find out! I'm not going to talk about the plot, because, unlike some people, I don't want to spoil it for other readers who won't get to read it before February. All I'm going to say is that, despite his dark side, Joe is truely one of the most intriguing and comlex characters I've come across.
xoxo,
Purple