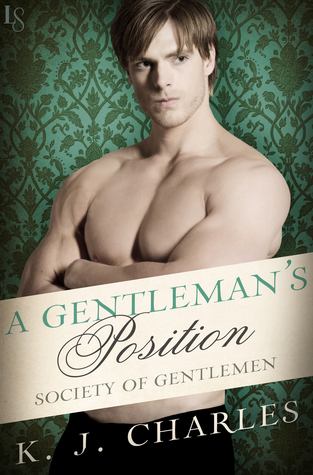 Summary
Power, privilege, and the rigid rules of class leave two hearts yearning for connection in the sizzling new Society of Gentlemen novel from K. J. Charles.

Among his eccentric though strictly principled group of friends, Lord Richard Vane is the confidant on whom everyone depends for advice, moral rectitude, and discreet assistance. Yet when Richard has a problem, he turns to his valet, a fixer of unparalleled genius—and the object of Richard's deepest desires. If there is one rule a gentleman must follow, it is never to dally with servants. But when David is close enough to touch, the rules of class collide with the basest sort of animal instinct: overpowering lust.

For David Cyprian, burglary and blackmail are as much in a day's work as bootblacking—anything for the man he's devoted to. But the one thing he wants for himself is the one thing Richard refuses to give: his heart. With the tension between them growing to be unbearable, David's seemingly incorruptible master has left him no choice. Putting his finely honed skills of seduction and manipulation to good use, he will convince Richard to forget all about his well-meaning objections and give in to sweet, sinful temptation.
Connect with the author
Review
Rating: 5 stars

!
A perfect romance novel!

It only took me reading the prologue to know what I'd already assumed: I would love A Gentleman's Position. Full of love, yearning, dreaming, and heartache, it was my favorite kind of romance.

The love story of Lord Richard Vane and the great Cyprian was long awaited. Cyprian intrigued me from the beginning as the Society's redheaded problem solver, and Richard, though not my favorite person in A Seditious Affair, I still wished to see get his happy ending, for Cyprian's sake, but mostly I wanted to see him break free of that heavy burden that was his sense of responsibility and duty, and whatnot, all the things that kept him from going after what he desired most: Cyprian.

It took four years and seven months for Richard to finally get there. Or around 40% of the book, but it was so worth it. I loved every page leading up to it, during it, and after it. I'd forgotten how much I like reading love stories tinged with sadness.

Of all the books by KJ Charles (and I've read almost all of them) this is the one that made my heart ache for the main characters the most, and I adored it for it.

Getting to know Richard's, and Cyprian's families and their pasts was an excellent addition to an already amazing story.

Other characters that made me go into fangirl mode were all the men who already got their own stories: Silas & Dom, Julius & Harry, Ash & Francis, they were all here, just like the final book in this series deserved.

Their little society was threatened by the extremely unpleasant Lord Maltravers. It was time once again for Lord Richard to protect them all, and to do that Cyprian was essential. While Cyprian was busy with plotting and scheming to take down Maltravers and save their group from demise, Richard was agonizing over finding a way to make his relationship with Cyprian work...

It was quite satisfying how it was all resolved.

A perfect ending to the Society of Gentlemen series.

KJ Charles continues to impress me with her work. I cannot recommend it enough. To anyone who likes reading M/M historical romance novels, this series is a MUST read.

Now I'll just go sit in a corner and cry because it's over.

Note to self: Re-read all KJ Charles books as soon as possible.


***ARC provided by the publisher via NetGalley in exchange for an honest review.***
My review of the previous book in the series, A Sedit

i

ous A

ffair,

can be found here.
Until next time, happy reading!
XOXO,