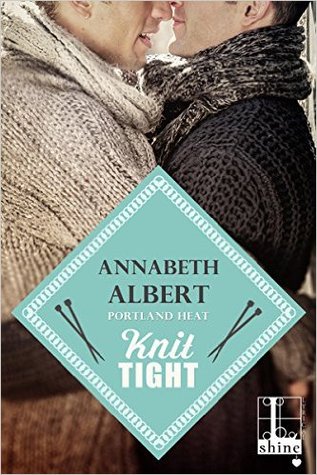 Knit Tight
(Portland Heat Series, #4)
by Annabeth Albert
Blurb:
It's no secret that Portland, Oregon, has some of best restaurants, shops, and cafés in the country. But it's the hard-working men who serve it all up that keep us coming back for more...
One of Portland's hottest young baristas, Brady is famous for his java-topping flair, turning a regular cup of joe into a work of art. Every Wednesday—aka "Knit Night"—hordes of women and their needles descend on the coffeehouse, and Brady's feeling the heat. Into the fray walks a tall, dark, and distractingly handsome stranger from New York. His name is Evren, and he's the sexy nephew of Brady's sweetest customer, the owner of the yarn shop down the street. He's also got a killer smile, confident air, and masculine charm that's tying Brady's stomach in knots. The smitten barista can't wait to see him at the next week's gathering. But when he tries to ask Evren out, his plans unravel faster than an unfinished edge. If Brady hopes to warm up more than Evren's coffee, he'll have to find a way to untangle their feelings, get out of the friend zone, and form a close-knit bond that's bound to last a lifetime…
Available for purchase at
"You're my favorite barista," the girl said with a self-conscious giggle. She was all of eighteen, if that, and reminded me of my sister, with her wispy hair and pale skin.
"Tonight I'm the only barista." I took a breath, kept my tone light, and didn't give in to the urge to sigh heavily.
I grabbed a mug to get her latte started. Wednesday nights were our busiest of the week, and I was stuck working alone because my coworker had called in sick. I hated Wednesdays, but I wasn't in a position to turn down hours. As it was, our boss had been slashing staff for the evening shifts, citing cost-cutting measures, so he hadn't seen fit to give me a backup.
"You're the best barista I've got, Brady. You can handle it," he'd said on the phone, in his usual offhand manner. He didn't like to be bothered with what he deemed trivial stuff. So I was alone to face Wednesday hell, better known as Knit Night, the weekly event in which a horde of women and their baskets of fibers descended on the coffee shop. But they all bought at least one drink and that meant tips in my jar.
And I was a damn fine barista, something I reminded myself as I put a little flair into making the girl's drink. She came here for this after all—the little bit of a show as I flipped the mug and steamed the milk, the latte-art smiley face I finished the drink with, the winning smile I dredged up as I handed it over. For an instant I made her feel like she was the sole focus of my attention instead of the line of traffic behind her. That was my skill, the one that was going to elevate me from Brady the barista to Brady the national-champion barista and alleviate a whole shitload of problems.
Buzz.
From deep in my black apron pocket, my phone vibrated against my thigh. Hell. One of those problems was undoubtedly slipping into a crisis state, but I couldn't risk fishing the phone out with a line of customers. I'd have to hope that my sister could hold down the fort at home and that whatever it was could wait for a lull in the rush.
The next order was the girl's friend, another latte, another smiley face, but I made the mistake of glancing up at the door as I worked. The next customer to come in was the hottest guy I'd seen in a very long time. He had artfully styled black hair, the sort of purposefully messy cut that probably cost three digits and took twenty minutes in the morning to perfect. His slim-fitting jeans also looked designer—a rich color somewhere between brown and black and a subtle sheen to the fabric. A fancifully wrapped scarf over a close-fitting, long-sleeved shirt would probably get noticed by the Knit Night ladies, which was exactly what I did not want to have happen.
Our eyes met as I drew the latte art with a stirring stick, and he grinned widely at me. Gorgeous rose-pink lips and perfect white teeth straight out of a dental ad, and—
Frak me.
I flubbed the smiley face, distracted by my efforts to memorize the handsome stranger. Rather than hand over a squiggly mess, I chucked the cup and started over. The girl didn't seem to care as she was deep in conversation with her friend at the end of the bar.
"Sorry about the wait," I said to the guy when it was finally his turn and he moved up to order. His intent gaze coupled with his polished appearance made me more conscious of my untrimmed beard and scruffy ponytail and made me wish I was wearing something a bit nicer than a faded People's Cup T-shirt.
"It is no problem," the guy said. He had a gorgeous voice—deep and polished, like a shiny piece of ebony. He had the fast speech and clipped consonants of an East Coast accent, but there was a lilt of something more exotic there, too. "I am happy to wait. Very peaceful in here."
Ha. I checked the clock as I tried to think of some flirty reply. The heavy glass door that led to Alberta Street swung open. It was 6:58 and Violet was first as usual, holding the door open for the herd of knitters. Not the steady trickle of a breakfast or lunch rush but twenty-plus women, all obsessed with punctuality and festooned with hats, scarves, and knit vests. Each ordered drinks for here with the sort of lengthy deliberation of someone who only ordered one coffee a week.
An older woman with the look and demeanor of a no-nonsense teacher, Violet made it her business to keep her fellow knitters in line. Knit Night was the brainchild of Iplik, the yarn store just down the street from us on Alberta, but Violet was the weekly event's unofficial hostess. As usual, she started giving her comrades orders about table rearrangement.
The People's Cup wasn't huge by any means, and Knit Night tended to fill the joint up. The space was longer than it was wide, with couches in front of the plateglass window, the coffee bar running along one wall, tables in the middle of the room, and a long wooden farmhouse bench and table for communal seating in the back of the room. The Knit Night ladies liked to turn the couches around and group the center tables together, creating a setup conducive to conversation but a tripping hazard for the rest of the patrons. And the arrangement resulted in an unholy din really, especially on nights when their ranks swelled to thirty or more.
"Remember to keep the aisle clear," I said to Violet and her minions. I'd warned them about creating tripping hazards with their knitting gear, but it was as futile as telling the twins and Jonas to keep their Legos in one area. Like my siblings, the ladies loved to spread out their projects.
"What'll it be?" I swung back to the register, no closer to having the right banter for the stranger, but no longer in a position to care. However, he'd stepped aside for Violet and her herbal tea order.
"I'll be back when the line clears," he said with a wink. He had a leather messenger bag, the sort meant to look like something Indiana Jones would haul around, for which one paid for every crinkle in the distressed finish. He'd probably come in wanting a quiet place to work.
He had the look and accent of a displaced New Yorker—working some cushy freelance job, no doubt. I liked thinking up little stories about my customers, but I didn't bother coming up with a lengthy one for him. He wouldn't be back once he saw how loud Knit Night got. And the ladies were likely to pester him about his intricately knit scarf with its pattern of interwoven cables. One time, I'd made the mistake of wearing a wool beanie I'd found for a buck at the thrift store. Every single knitter needed to remark on its construction. Dude was so going to be beating feet once Knit Night got underway.
KNIT TIGHT—Brady Bio
Name: Brady

Job: Barista at People's Cup in Portland, Oregon

Born: Portland, Oregon

Likes: Burgers, trying new foods, Salt & Straw ice cream, single-origin espresso, Harry Potter, skateboarding, kid artwork

Dislikes: Chicken nuggets, teacher conferences, rent, bi-erasure, complications, country music

Description: Slim, Brady rocks the Portland lumbersexual hipster look: beard, man bun, pierced ears, and flannel over t-shirts along with thrift store chic. Brady enjoys skateboarding to and from work.

But beneath Brady's very Portland-esque looks lies a hard-working young man trying to provide for his family. Brady is raising his siblings, and he's struggling to keep the family together and make a home for them while establishing himself as one of the best baristas in the country. When a handsome stranger wanders into his coffee shop, Brady isn't sure whether he has room in his life for another complication.

Find out more about Brady in KNIT TIGHT!
Annabeth Albert grew up sneaking romance novels under the bed covers. Now, she devours all subgenres of romance out in the open—no flashlights required! When she's not adding to her keeper shelf, she's a multi-published Pacific Northwest romance writer.
Emotionally complex, sexy, and funny stories are her favorites both to read and to write. Annabeth loves finding happy endings for a variety of pairings and is a passionate gay rights supporter. In between searching out dark heroes to redeem, she works a rewarding day job and wrangles two children.