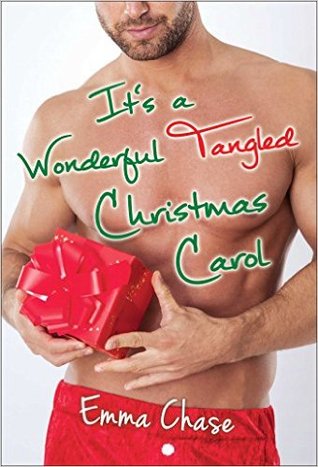 Drew and Kate play a hilarious encore to New York Times and USA TODAY bestselling author Emma Chase's "highly entertaining" (RT Book Reviews) debut Tangled in this sexy take on A Christmas Carol, in which three dream women remind Drew that no gift could be better than his life with Kate…

After a blowout fight with Kate about his workaholic habits sends Drew to the office in anger on Christmas Eve, he falls asleep at his desk. There, three lovely holiday spirits magically visit him to teach him that every moment is precious and that he should never take his family for granted. But when he wakes up, will he just write it off as a dream?

Originally published in the sizzling anthology Baby, It's Cold Outside, this irresistible novella is the perfect holiday treat!
Connect with the Author:
Rating: 3.5 stars.

Drew Evans. He's come a long way from that "flu" episode. One thing's the same, though: he's still a self-centered, arrogant, lovable asshole. It was such a nice treat to see that even eight years into his relationship with Kate, he still managed to get himself deep into trouble. Wow, eight years... Wow... Now, Drew, trouble, go!

Drew, ever the ambitious businessman and very close to getting a new important client made a bad call as a husband, father, and family man in general: he went to work on Christmas Eve. Kate was obviously furious and disappointed, but Drew, living in his Drew bubble didn't understand what the big deal was. He wasn't exactly in the holiday spirit. He thought Ebenezer Scrooge had the right idea. And after that night, he'd have a lot more in common with Scrooge.

To show him the error of his ways, Drew was visited by three spirits, each one bringing him closer to learning a lesson he'd never forget. The spirit of Christmas past took him to his childhood when he was only five and, if you'll believe Drew, "fucking adorable", and made a special Christmas wish. The spirit of Christmas present showed him what his five-year-old son was wishing for. The third spirit was not there to show him the future, but to make him appreciate his present by showing him an alternative one.

Of course, in the end, Drew came through, as he always does, and everything was right once again.


It's a Wonderful Tangled Christmas Carol is a great holiday story for the fans of the Tangled series. I am a fan, myself, so I am rather surprised I haven't enjoyed it more. Don't get me wrong, I did like it, but not as much as I thought I would. It could be because I was feeling tired while I read it, but I suspect it's mostly due to the fact I'm enjoying this new series by Emma Chase, The Legal Briefs, and that Sustained has become my favorite book by Ms. Chase, and Jake my favorite hero she's written about. Yes, reading this novella confirmed Drew was dethroned by Jake in my eyes.


I think I would have liked this more had I read it last year when it first came out. Alas, it was part of an anthology, and I decided to wait and see if it would be published separately. Luckily, it was. Unluckily, I had to wait a whole year.


Oh, there is a bonus story in this edition. Ever wonder how Drew proposed to Kate? Well, the answer can be found in Indecent Proposal .


Overall, it was a fun, sweet Drew Christmas story. Whoever liked reading about Drew Evans from his POV will not want to miss it.
XOXO,
By day, Emma Chase is a devoted wife and mother who resides in a small, rural town in New Jersey. By night, she toils away bringing her colorful characters and their endless antics to life. Writing has always been a passion and with the 2013 release of her debut romantic comedy, Tangled, the ability to now call herself an author is nothing less than a dream come true. - See more at: http://books.simonandschuster.com/Overruled/Emma-Chase/The-Legal-Briefs-Series/9781501102035#sthash.7oPZtRxt.dpuf
By day, Emma Chase is a devoted wife and mother who resides in a small, rural town in New Jersey. By night, she toils away bringing her colorful characters and their endless antics to life. Writing has always been a passion and with the 2013 release of her debut romantic comedy, Tangled, the ability to now call herself an author is nothing less than a dream come true. - See more at: http://books.simonandschuster.com/Overruled/Emma-Chase/The-Legal-Briefs-Series/9781501102035#sthash.7oPZtRxt.dpuf