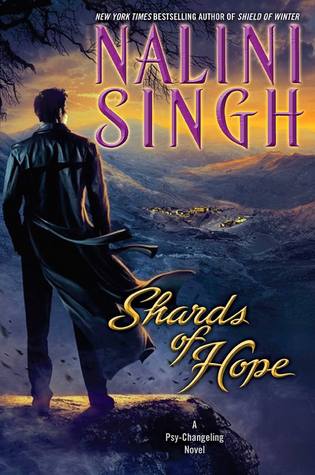 Genre:
Pnr Romance/ Urban Fantasy
Buy The Book:
Connect With The Author:
The "smoldering heat, epic romance, and awesome action" of Nalini Singh's New York Times bestselling series continues as two Arrows find themselves caught in a chilling conspiracy that spans all three races…
Awakening wounded in a darkened cell, their psychic abilities blocked, Aden and Zaira know they must escape. But when the lethal soldiers break free from their mysterious prison, they find themselves in a harsh, inhospitable landscape far from civilization. Their only hope for survival is to make it to the hidden home of a predatory changeling pack that doesn't welcome outsiders.
And they must survive. A shadowy enemy has put a target on the back of the Arrow squad, an enemy that cannot be permitted to succeed in its deadly campaign. Aden will cross any line to keep his people safe for this new future, where even an assassin might have hope of a life beyond blood and death and pain. Zaira has no such hope. She knows she's too damaged to return from the abyss. Her driving goal is to protect Aden, protect the only person who has ever come back for her no matter what.
This time, even Aden's passionate determination may not be enough—because the emotionless chill of Silence existed for a reason. For the violent, and the insane, and the irreparably broken…like Zaira.
*** REVIEW ***
"Every white knight needed a deadly black sword at his back."
Over the years I have lost interest in some series which I considered one of my favs because the more books came out the more it seemed that they had nothing new to offer, but Psy-Changeling series by N. Singh is definitely not one of those. In fact, this series only seems to get more and more captivating with every new installment. Even though my fav books of the series are still with the Changeling leading characters, the Psy race should not be underestimated.
The story was a combination of a dark, thrilling and action-packed mystery, in the midst of which is a slow-building, emotional and touching romance between the Arrow leader and his right hand. The mystery part revolves around the new villain(s) in the psy, changeling and human world who is trying to estrange the mentioned races, start a war and break up the exiting alliances. These parts of the story will keep the readers on their toes til' the very last page.
"If I take you," she said, and it was a warning, "I'll keep you. Always."
It was so easy to fall in love with the brave, intelligent, powerful and kick-ass leader of the Arrow squad and the male protagonist of this installment, Aden. He always said and did the right thing and he won me completely over with the undying protectiveness of his people and unselfish love for Zaira. For me, he was simply flawless. Both of them had a hard and haunting childhood which left unforgettable scars on their psyche. Zaira was the one who came out more broken and it took time and persuasion to finally let go of her worse fears and nightmares, but I loved her character. Despite her dark side she was a true fierce, kick-ass female heroine I prefer reading about.
The book was mostly written from Aden's and Zaira's POV, but as usual we also get a sneak-a-peek in the lives of our other dear psy and changeling characters whose lives are getting more and more intertwined. We also get introduced to the new characters and their leaders- the water changelings. One more thing- As usual I loved the parts focused on the leading psys Nikita & Anthony K. who in my "humble" opinion have the potential for a great book, so I hope the author doesn't keep teasing us in vain and finally gives us their HEA.

All in all- 4 my-love-is-still-strong-for-you stars. Bring on the next one!
xoxo,
Purple