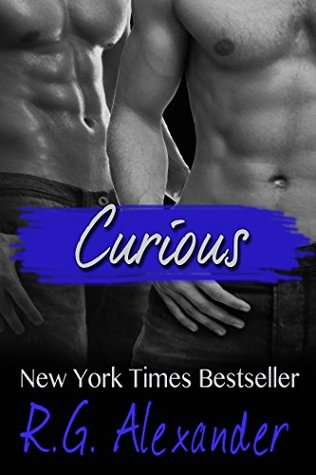 Buy The Book:
Author's Page:
Genre:
MM Contemporary Romance/ Erotic
Synopsis:
Are you Curious?
Jeremy Porter is. Though the bisexual comic book artist has known Owen Finn for most of his life—long enough to know that he is terminally straight—he can't help but imagine what things would be like if he weren't.
Owen is far from vanilla—as a dominant in the local fetish community, he sees as much action as Jeremy does. Lately even more.
Since Jeremy isn't into collars and Owen isn't into men, it seems like his fantasies will remain just that forever…until one night when Owen gets curious.
Warning: Contains explicit m/m nookie. A lot of it. Very detailed. Two men getting kinky, talking dirty and doing the horizontal mambo. Are you reading this? Do you see them on the cover? Guy parts will touch. You have been warned.
RATING:
*** REVIEW***
Six pack covers don't work for me anymore (seriously, people, no offense- but, it's high time to be more imaginative), but friend-to-lovers/ GFY mm romances sure do, just like this one. I've been in a reading slump lately. Nothing seemed to work for me, not even the latest installment of one of my fav series, so what better way to get my "reading mojo" back than with a fun, drama-free and steamy mm romance book.
Jeremy & Owen have been best friends for years now. Actually, they've been more than friends, more like a family. Jeremy is a wealthy comic book artist who has been half in love with Owen all his life, but he never acted on it, because Owen was straight and he cherished too much their friendship and Owen's family, who helped him a lot during the most difficult time in his life, to lose him as a friend. And the 2nd reason was because Owen liked to be called Master Finn in the bedroom, if you know what I mean, and Jeremy was never attracted to that kind of play, but as the saying goes: never say never.
Owen, on the other hand, knew that Jeremy is bisexual, but he never had problems with it, until recently when he caught him in the act, but the turn of his thoughts surprised even himself. Both of them pursued only no strings attached relationships and never had or wanted anything more serious. We meet them at the beginning of the story on the day of Owen's 35th birthday which he unlike the years before wanted to spend home with Jeremy, drinking tequila and playing X-box, or that's at least what Jeremy thought, until one birthday wish changes everything...
Oh, boy...The chemistry between these two was off the charts. I don't know if it's because of my weakness for this particular theme, but seriously, if I were to rate this solely based on those steamy scenes I would have rated it 4+ stars. They seemed perfect for each other and I loved them together, especially because they didn't act like immature drama queens when things got complicated, but they talked it through and worked their issues out together.
Girl crush alert- I just loved their best friend Tasha. She was just the type of character (even secondary) I prefer- fierce, witty and a great friend.
My only "complain" is that I felt at the beginning as we were thrown in the middle of the story. To be exact, the story lacked for me that special build-up. I wanted to know more about Owen and Jeremy before they decided to take their relationship to the next level and felt as we were given only little snippets about their past.
Recommended to mm romance readers
who have a weakness for friends-to-lovers/ GFY romances like I do. The 2nd, not yet published book in series is called
Scandalous (The Finn Factor, #2)
.
Can't wait to see what else this author has in store for us!