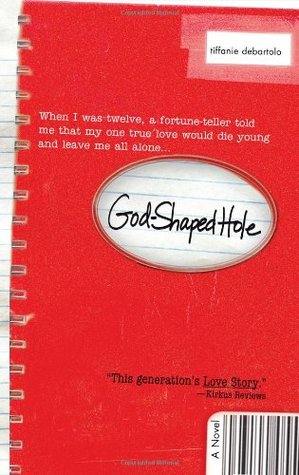 **SUMMARY**
When I was twelve, a fortune teller told me that my one true love would die young and leave me all alone.
Everyone said she was a fraud, that she was just making it up.
I'd really like to know why the hell a person would make up a thing like that.
Written with the snap, glitter and wit of The Girl's Guide to Hunting and Fishing, God-Shaped Hole is a memorable, poignant love story that will leave you weeping with laughter. It is told in the wry, vulnerable voice of Beatrice "Trixie" Jordan who replies to a personal ad, "If your intentions are pure I am seeking a friend for the end of the world."
In doing so, she meets Jacob Grace, a charming, effervescent thirty-something writer, a free spirit who is a passionate seeker of life. He possesses his own turn of phrase and ways of thinking and feeling that dissonantly harmonize with Trixie's off-center vision as they roller coaster through the joys and furies of their wrenching romance. Along the way they try to come to terms with the hurt brought about by their distant fathers who, in different ways, forsook them.
This story will prove so touching you will rush to share it with a friend or loved one or even a stranger.
My rating:
**MY REVIEW**
"Thoughts are king, Trixie, king!"
Well, I just have so many thoughts right now, I felt this novel on a very personal level.
You know that feeling when you feel like a book was written just for you? Makes no sense I know, but I feel like Tiffanie DeBartolo has somehow poked inside my head, took my deepest thoughts and wrote about them. This book spoke to my soul. I could identify with Trixie like with no other literary character.
I remember feeling it even then - the sensation that your heart weighs more than your body - that it might burst out of your chest and splatter all over the wall. I suppose it's called loneliness.
Jacob & Trixie are definitely one of my favorite literary couples - Siamese soul lovers – just thinking about them now warms my heart. I liked them both, I love how the author portrayed them, they're not perfect, but that's why they seem so real.
Jacob was the only person I'd ever met, besides myself, who believed music was a cosmic language that spoke directly to our souls – to ease our pain, and to remind us we weren't alone.
Moreover, I'd read How to Kill a Rock Star and I liked it, I found it quirky and unusual, but I didn't love it. Now that I've read both novels I can see why HTKAR is more popular among readers and sure, in terms of plot, it has a lot more going on, but to me, it can't compare to GSH.
Now, the first thing that caught my eye when I picked up this book was the title. God-Shaped Hole. And I loved the concept of it, the way it was embedded into the story. (That notebook cover is not accidental either.)
Or maybe that was the dreamer in me. I try to find meaning anywhere I can. It's the only way I know how to validate my existence.
To me, this was a story about Trixie and Jacob, but also a story about trying to find meaning. It's all about the search, we're all just trying to fill the void, live in spite our fears. GSH is deep, without being pretentious, with the right dose of dry humor.
It's a brilliantly written novel with unforgettable characters and a poignant love story, one I'll for sure never forget!
I guess the feeling that came over me could be described as joy, but only if joy can be profoundly painful. It rushed like a river down into my abysmal emptiness, but no matter how long or how far it flowed, I knew it could never reach the bottom.
Beatrix