Long time no see. First of all, I hope you had a blast for holidays and may 2017 be even more successful and filled with love, health & happiness for you and your family. Due to working two jobs last year I've been AWOL from the readers world for the most part, so the list of books I've read in 2016 is pretty short. That's why my top reads of 2016 will be even shorter. There's this one read that stood out for me last year and it was a buddy read with my fellow blogger Beatrix (Check out our longer version of Buddy Review of Cam Girl if you haven't yet.)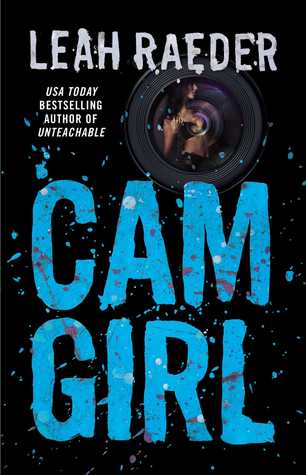 Genre:
New Adult/ Contemporary Romance/ Suspense
Buy The Book:
AMAZON / S & S / B & N / BAM! / IB
Connect With The Author:
Twitter / Facebook / Goodreads / Blog
Synopsis On GR:
"Darkly erotic…a must read" (Publishers Weekly, starred review)

From the USA TODAY bestselling author of Unteachable and Black Iris comes a new, sexy romantic suspense novel about two best friends who are torn apart by a life-shattering accident…and the secrets left behind.

Vada Bergen is broke, the black sheep of her family, and moving a thousand miles away from home for grad school, but she's got the two things she loves most: her art and her best friend—and sometimes more—Ellis Carraway. Ellis and Vada have a friendship so consuming it's hard to tell where one girl ends and the other begins. It's intense. It's a little codependent. And nothing can tear them apart.

Until an accident on an icy winter road changes everything.

Vada is left deeply scarred, both emotionally and physically. Her once-promising art career is cut short. And Ellis pulls away, unwilling to talk about that night. Everything Vada loved is gone.

She's got nothing left to lose.

So when she meets some smooth-talking entrepreneurs who offer to set her up as a cam girl, she can't say no. All Vada has to do is spend a couple hours each night stripping on webcam, and the "tips" come pouring in.

It's just a kinky escape from reality until a client gets serious. "Blue" is mysterious, alluring, and more interested in Vada's life than her body. Online, they chat intimately. Blue helps her heal. And he pays well, but he wants her all to himself. No more cam shows. It's an easy decision: she's starting to fall for him. But the steamier it gets, the more she craves the real man behind the keyboard. So Vada pops the question:

Can we meet IRL?

Blue agrees, on one condition. A condition that will bring back a ghost from her past.

Now Vada must confront what she's been running from. A past full of devastating secrets—those of others and those she's been keeping from herself…
Purple's rating:
5/5 stars
"All art comes from pain."
Dark, raw, thought-provoking, erotic, poignant, inspiring... but above all beautifully written. It's such a complex, powerful and skilfully written story that makes me feeling inadequate to even write a review about it...
"My love is savage and rapacious. It isn't content to touch. It wants to be inside, crawl into the marrow, caress each vein until the cells are all mixed up and there is no you and me anymore, no secrets or shadows sliding between our skin. Only this endless devouring of each other."
...it's the type of a book which will make you question and give another, inside perspective about themes such as self-discovery, sexuality and genders in general.
Highly recommended to every fan of dark, suspensful, steamy and thought-provoking mindfucks which will keep you second-guessing till the very end.

Beatrix' rating:
4/5 stars
What a strange world where we pay people to listen to our problems, and pay them to fuck themselves while we watch, and pay them to save us.
Once upon a time (okay, when I read Unteachable) I fell in love with Leah Raeder's words. And ever since, I await her next novel with delightful anticipation. It's like (s)he has this deep, profound relationship with words, and we, as readers, should feel lucky we get to read what comes out of her/his pen. (S)he is an artist, just like Vada, MC of this novel.
Cam Girl is another beautifully written novel, and one which raises a lot of important issues, main one being our preconceived notions about gender and sexuality. Masterfully portrayed, Cam Girl is a novel I will for sure recommend to many people...
* If you're interested in this author's work, check out: