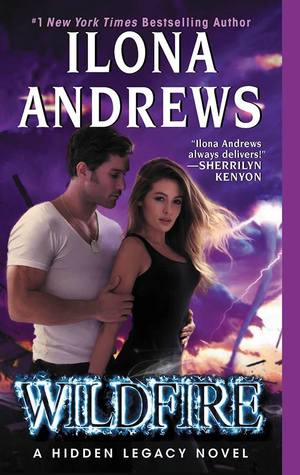 Paranormal Romance/ Urban Fantasy
Buy The Book:
Just when Nevada Baylor has finally come to accept the depths of her magical powers, she also realizes she's fallen in love. Connor "Mad" Rogan is in many ways her equal when it comes to magic, but she's completely out of her elements when it comes to her feelings for him. To make matters more complicated, an old flame comes back into Rogan's life…
Rogan knows there's nothing between him and his ex-fiance, Rynda Sherwood. But as Nevada begins to learn more about her past, her power, and her potential future, he knows she will be faced with choices she never dreamed of and the promise of a life spent without him.
As Nevada and Rogan race to discover the whereabouts of Rynda's kidnapped husband and are forced to confront Nevada's grandmother, who may or may not have evil motives, these two people must decide if they can trust in each other or allow everything to go up in smoke.
REVIEW
Ilona Andrews simply can't do wrong when it comes to creating a compelling, action-packed and breath-taking urban fantasy/paranormal romance story with a fair dose of humor and fierce, charismatic and lovable characters. They show that with their every next book, just as they showed it with the third installment of HL series. The book was simply addictive. Unputdownable. I've read it in one day.
These two authors are one of few authors who know the perfect receipt when it comes to my ideal uf/pnr romance book and they keep delivering it every time. The series is
fairly new, but they've become one of my favs as soon as I've read the 1st book. One of the biggest reasons for that are kick-ass, witty main and secondary characters who never disappoint. And I can't finish this review without mentioning the main hero - the (in)famous Prime Connor Rogan who makes me think R rated thoughts...dayum... that guy is definitely my new Barrons. 4 stars because of the
Rynda case which was a bit irritating in the beginning.
Highly recommended
to every urban fantasy/paranormal romance fan!
RATING:

4/5 STARS
xoxo,
Purple