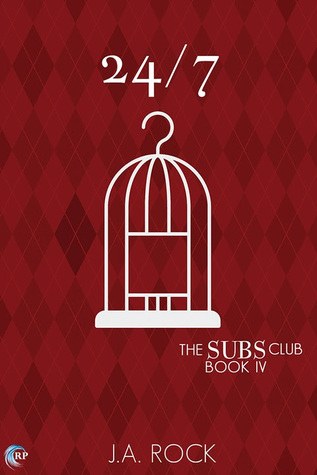 Summary
We started the Subs Club to make the kink community safer for subs. Except now the others are so busy chasing their happy endings, it's like they've forgotten what Bill did to Hal and the fact that he got away with it. They used to think I was betraying Hal's memory by hooking up with the owners of the club where he died. Now they don't seem to care about any of it anymore.

Maybe I am sometimes angry with GK and Kel for giving Bill a second chance, but they've been mentoring me for a year now, and whatever else they've done, they make me feel incredibly safe. So I want to try something: I want to offer them my complete submission, 24/7. To serve the people who forgave Bill. That's the way I want to hurt.

Except I'm starting to care about them in a way I never meant to—and I think they feel the same way. But after Hal, I don't know if I want to be in love again. Because what I really need, more than anything, is to see Bill brought to justice. Even if I have to do it myself. Even if it means losing GK and Kel.

—Gould
Review
Rating:

5

stars

!
Saying goodbye to a beloved series is a sad, sad occasion, so for the time being I'm going to pretend my wish of more future installments came true. I refuse to say goodbye to Dave, Miles, Kamen, and Gould. I can't, and I won't.
24/7 is the fourth book in The Subs Club series, and so far I've felt my reviews don't do these stories justice no matter how much love I express for them. Gould's story won't be an exception.
As expected Gould's book was a great one, just like the previous three were, and just like the previous books were perfect for the character they were about, 24/7 was perfect for Gould. As such it had quite a sad tone.
The effect Hal's death had on his friends had been present throughout the series. They created the Subs Club to help prevent what happened to Hal happen to anyone else, and in the previous stories the main characters shared their views on what happened and on Hal himself. From the get-go, it was apparent Gould, as Hal's ex-boyfriend, was the one most affected by Hal's passing. This book revealed just how much, and it was a lot. Hal was in Gould's thoughts more than not, and guilt over his death was a burden Gould carried with him all the time. Anger towards Bill, the dom Hal played with the night he died, was another burden. While Dave, Miles, and Kamen had found their significant others, and moved on, Gould was far from it.
Gould's relationship with Kel and GK, the owners of the BDSM club where Hal died and who had let Bill come back, may have appeared as a betrayal of Hal's memory, but to Gould by submitting to the people who forgave Bill, it was a way to make himself hurt.
The Subs Club, Pain Slut, and Manties in a Twist were all M/M romance novels. 24/7 is a M/F/M story that I wouldn't really label as a romance. Kel and GK had been Gould's mentors for awhile; Kel was his Mistress, and GK was second-in-command. The more they spent time together, it became obvious Gould had deeper feelings for Kel even if he didn't want to. GK and Gould were friends. Well, friends who had sex with each other. Things were going well among them, so Gould mustered up the courage to ask for what he wanted, and that was to try 24/7 Master/slave relationship with them. That was good for Gould, but it also brought to light his deeper issues, which could have ended badly, underlining once again the importance of communication in BDSM.
Gould's kinks, humiliation and dehumanization, were not ones I'm most comfortable with, but it fit with the story, so no complaints will be coming from me.
As always, reading scenes with Dave, Miles, Kamen, and Gould was something I enjoyed very much. Nothing better than when these friends come together. Another reason why I like those parts is because I get an update on the established couples, and see how their relationships are progressing. It was in that theme the book and the series were wrapped-up. Everyone, Gould included, settled down, and were heading for a bright future. I was left all tears-eyed and unable to start a new book.
In the end all I can is that this series was a wonderful read. It's something special. I hope someday some of the side characters get their own books. It would be a shame not to revisit this world. In the meantime, I'm going to read as many J.A. Rock books as I can.
***ARC provided by the publisher via NetGalley in exchange for an honest review.***
My reviews of the previous installments:
The Subs Club
|
Pain Slut
| Manties in a Twist


Until next time, happy reading!
XOXO,