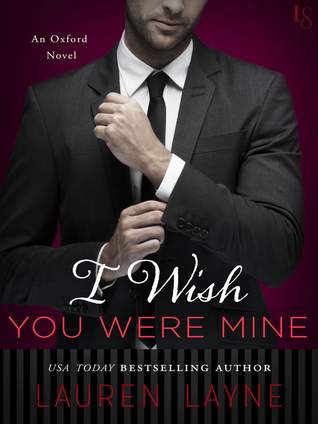 Summary:
In this charming Oxford Novel, hailed by Keri Ford as "a sizzling-loud friends-to-lovers story," Lauren Layne poses a provocative question: What do you do when you fall in love with your sister's ex?

A year ago, Jackson Burke was married to the love of his life and playing quarterback for the Texas Redhawks. Now he's retired, courtesy of the car accident that ruined his career—and single, after a nasty scandal torpedoed his marriage. Just as he's starting to get used to his new life as a health and fitness columnist for Oxford magazine, his unpredictable ex shows up on his doorstep in Manhattan. Jackson should be thrilled. But he can't stop thinking about the one person who's always been there for him, the one girl he could never have: her younger sister.

Mollie Carrington can't say no to Madison. After all, her older sister practically raised her. So when Madison begs for help in winning her ex-husband back, Mollie's just glad she got over her own crush on Jackson ages ago—or so she thought. Because as Mollie reconnects with Jackson, she quickly forgets all her reasons to stay loyal to her sister. Tempted by Jackson's mellow drawl and cowboy good looks, Mollie is sick and tired of coming in second place. But she can't win if she doesn't play the game.
Connect with the author:
Review:
Jackson Burke, the main character in I Wish You Were Mine, first appeared in the previous book's epilogue as a man who had an air about him of someone who had lost everything. After being injured in a car accident, his career as a star quarterback was in question, and so was his marriage given all the rumors surrounding him. That was in Irresistibly Yours.

In I Wish You Were Mine Jackson was working at Oxford, he was divorced, depressed, and actively avoiding interactions with his sweet, friendly co-workers. He was also avoiding his ex-sister-in-law Mollie, but that ended when this story began. She became his roommate.

He was starting to feel attracted to her. She had a long history of being in love with him. That led exactly where you'd expect it would lead. The person not happy about that: the sister/ex-wife Madison, who decided that was just the right moment to insert herself back into their lives, and get Jackson back.

Drama ensued.


That's what was happening, and here's what I thought of it all:


Overall rating: 2.5 stars.

Irresistibly Yours was my first time meeting both the Oxford and the Stiletto group. I may not have known much about them, but by the end of Cole and Penelope's story, I did know one thing for sure: I wanted Lincoln's book. Needless to say, I was disappointed book two in the series wouldn't be about him, but I was willing to give this new guy Jackson a chance. Unfortunately, I wasn't too impressed by him or the women in his life. All I kept thinking throughout the book was the same thing I thought after the previous installment: I want Lincoln's book!

My favorite parts of this novel were the scenes that involved none other than Lincoln Mathis. Those bits and pieces made me even more eager to find out what secrets he's keeping, and that date for Someone Like You just makes me sad. The scenes involving other previous characters was another thing I liked in this novel. With the exception of Cole and Penelope,

I

haven't read any of the other characters' stories, but still I liked whenever they were a part of a scene.

So, that's what I liked. The rest, not so much, which is unfortunate, because the rest is the biggest and the most important part.

Even before I started this book, I was worried it wouldn't work for me because Jackson's love interest was his ex-sister-in-law. The very thought the heroine is in a relationship with the man who used to be her sister's husband is just... no. This would've been a problem for me, no doubt, had that sister not been Madison. Madison was a rather despicable character. Every time she appeared, I wanted to scream. Yet, the ones I wanted to slap across the face were Jackson and Mollie for no other reason than for putting up with Madison's crap for ages. It's still unclear to me why Jackson was married to her for so long. Her true colors had to have shown earlier in their marriage.... Whatever, it's just one thing on my long list of things I didn't understand in this story.

Mollie, the heroine, remains a bit of a mystery to me. After a novel in which she was one of the main characters, all I can say about her is that she was in love with her sister's husband, and always stood by her sister's side even when it was glaringly obvious Madison was being a selfish bitch. Not something I'd expect from a supposedly extraordinarily smart person. Overall, I

thought

Mollie didn't have much to offer in the personality department, and the little she did I didn't find likable, or understandable. At least when it came to Jackson, I understood his actions. Well, I understood some of it. For example, I got why he was wallowing in his misery over his career as a player being cut short because it was clear it was important to him. I got why he was a loner at his new job. I felt bad for him, but I got it. His relationships with the women in his life was what left me with many questions. As I've already said, I'm unsure as to why he remained married to a person like Madison for so long, and quite frankly, I didn't see why he was suddenly so attracted to Mollie. Their whole romance seemed forced.

In the end, I was unconvinced. Isn't that sad? You know, I'm not a die-hard fan of this author's work

;

the little I've read so far hasn't made me want to gush over her writing style, so in order to like her books I

rely

on the entertainment factor

of

her

stories, and I Wish You Were Mine was not entertaining.
Still, if you are a Lauren Layne fan, and you don't mind the hero was married to the heroine's sister (and remember, the

ex-wife

is

the devil

), I'd encourage you to give this a try and see for yourself.
***ARC provided by the publisher via NetGalley in exchange for an honest review.***
My review of book one in the series,
Ir
resistibly Yours,
can be found here.
Until next time, happy reading!
XOXO,